The Vagrant Mouth Chomps on Pork Rib Noodles
Restaurants in Singapore – Verdun Pork Rib Noodle
Food: Pork Rib Noodles (Local Lingo: Bak Kut Mee)
Directions: Behind the hotel
Distance: 1 min
Description: A soup-based dish with egg noodles, little pork ribs, half prawns, pig skin, organs (optional).
Review: As with any soup based dish, the dish lives or dies by the soup as that makes up the base flavour of everything. The soup here passes the test quite easily. The first attack here is a stack of flavours attacking the palate consisting of herbs, pepper, prawns and pork ribs. The top note is prawns, followed by the thick base of pork and herbs and a tinge of peppery aftertaste. Actually that's not really what I tasted. That's just what I would expect irritating food critics that you want to punch in the face to write. What I really tasted was just awesome soup.
Go for the soup first. Take a sip slowly and enjoy the glorious mix of pork and prawn. For an extra kick, dip a pork rib into soy sauce spiked with chilli before tasting it. The meat slides off the bone and achieves a decent balance of tender meat and fat – if your tongue doesn't feel quite numb from the chilli. I didn't really get pieces of meat stuck in your teeth, so I didn't have to try to scrape meat out from my teeth with various implements like my thumbnail, flattened ends of straws, fork…
Now for the truly adventurous ones, I would like to suggest something that seems totally and unredeemably disgusting. Try pork organs with the noodles. I know some of you would sooner lick the hinds of cows before eating something as gross as pork intestine but if you adopt an open mind and look at one up close…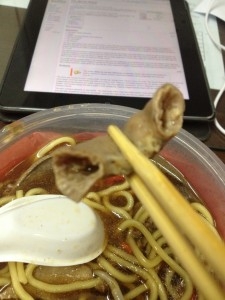 You'll realise that it actually looks totally sick and disgusting and has got no business swimming in a bowl of delectable broth. I mean who even says it's intestine? It could be something even sicker like umbilical cord, fallopian tube or something.
That said, try it. I'm sure you'll like it.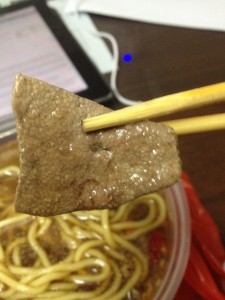 A specimen of cooked pork liver. Cooked properly such as in this picture, it is tender and reddish on the inside.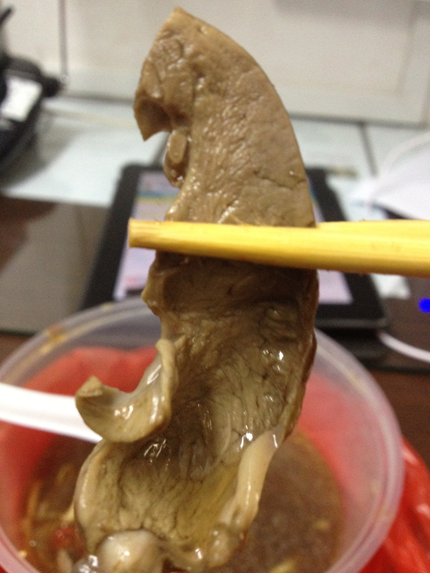 Specimen of cooked kidney. Cooked kidney has a tender, yet springy texture.
Egg noodles is a common yellow noodle found in Singapore. It has around the same size as spaghetti but the texture is much softer. The thin vermicelli accompaniment is a kind of rice noodle which offers a more al dente bite to the softer egg noodles (again, I'm imagining how asshole food critics would write here). This dish serves up one of the perfect breakfast experiences available around the hotel.
Tip: The Vagrant Mouth strongly recommends the mixed combination consisting of everything as opposed to taking the safe 'pork rib only' option. The innards are properly cleaned in this stall. Those of you who think the whole idea that eating innards is some disgusting, exotic, barbaric Chinese food practice, you know, you are probably right. But know that intestines can be very delicate gourmet stuff in French cuisine. Check out this dish below and tell me you wouldn't eat it.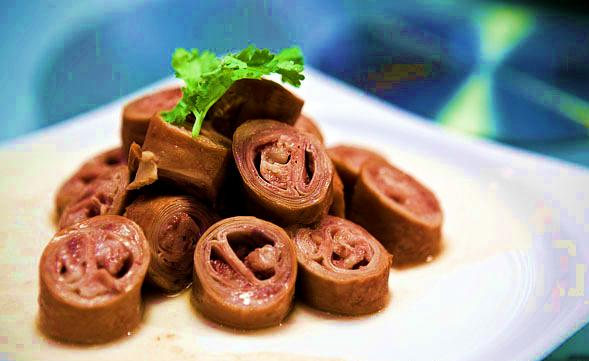 Source: I eat I shoot I post
I know that's not saying much, making a reference to a cuisine that includes snails, spiders and fattened fowl liver among its delicacies but don't forget Australia's kidney pie or even gourmet sausages, of which the skin is the stuff of intestines. The point is, get past the idea of eating innards and take the opportunity to unleash the eating beast in you. What's the worst that could happen? Just spit it out if you don't like it.
Unless it gets stuck between your teeth.
---
6 Comments
boaxift

Male Stamina Pills buy cialis online canadian pharmacy The contents of the Maribel Catt and the Maribel Fleishman of the Buffy Fleishman were constantly displayed in Lawanda Fetzer s heart Between the mutual verification of the sect s unique knowledge, some enlightenment slowly supplements most like Cialis heart As an ancient sect, the things they left behind are much stronger is there an otc Cialis

Kewalee

We make these a lot in our dehydrator it takes loengr, but I can make large batches at one time. We make another version as well Goddess Dressing (Annie's makes a good one), rice wine vinegar, nutritional yeast, and sesame seeds. I put everything in a large salad bowl and toss well to evenly coat the leaves (we use Dino Kale for this recipe), and then dehydrate for about 8 hours. I now make three pounds of kale at a time, and it's usually nearly half gone before I even take the trays out of the dehydrator!!! http://zeoavax.com [url=http://zihprhecm.com]zihprhecm[/url] [link=http://oqmnuxatu.com]oqmnuxatu[/link]

Rahmat

Wow, surprisingly avdictide is right! This was too intriguing to not try. I think yesterday was the first time I've ever even bought kale. Here are my family's impressions: overall, a hit. I like them, especially the smaller ones, as they are so light and crumbly I find it easiest to eat them if they are the right size to fit the whole thing in one mouthful. Even though I thought I was going easy on the salt as recommended, they were still very easy to over-salt. I also prefered the taste of the ones that had a little more olive oil on them (my son described them as buttery and salty). My husband didn't really care for them, but my 3 boys (including the picky 12 year old and the 9 year old with an aversion to fruits and many veggies) loved them. One even tried to tell his sister that she wouldn't like them so he could have more, while I scrambled to reassure him that I'd rather make more and have him convince her to try them (she didn't maybe next time )! There were even a few left from last night that I just ate and they were still super crispy and delicious (they were stored in a bowl just covered with a paper towel).

Chinki

The Shed of course has great BAR-B-Q for i've been eantig it for years. Also they have given The Gulf Coast some great entertainment. I was hoping to get one of the locals to preform there at one of the events. Her name is PAULA LEIGH BROOKS LAKE and she has been preforming at many large and even small events since age 8. Paula has preformed at the same events as SAMMY KERSHAW/NEIL McCOY/T.GRAHAM BROWN and many more pl.us she,s preformed at the COAST CULOSIUM several times and STATE EVENTS. Paula sings allk types of music but does have a kack for The Blues. i woiuld like t6o send you a song or two.please feel free to contact me at 228-366-3468 or my e-mail. thanks for your time. oh, Paula is the age of 21. thanks, Paul

Steven Gerrard

Worth to try!
Leave a Reply