The Vagrant Mouth Chomps in Astons
Restaurants in Singapore – Astons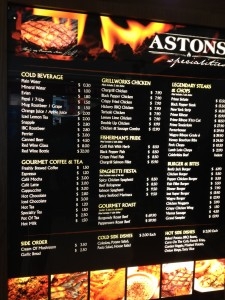 Food: In local lingo, 'Western food'.
Directions: Two minutes' walk
Distance: Just across the street at the main entrance of City Square Mall.
Description: A hodgepodge of grilled steak, fish, fish and chips, chicken, pasta and burgers. You get the picture.
Review: If you are still trying to acclimatise to the hot local weather and your palates have not yet warmed up to local flavours, you may want to opt for local Western food in an air-conditioned setting.
One point I'll make about the prices. While there's definitely more affordable options around, including the food court located in the basement and at level five, for the quality of steak that the restaurant is providing, I'll rate the restaurant under the budget category.
Tip: Try to go before lunch time or after lunch time. There's very often a queue outside during lunch time. It might be worth the wait for some of you, however. While I didn't have to wait long to get in, the restaurant was packed from the inside to the al fresco seats.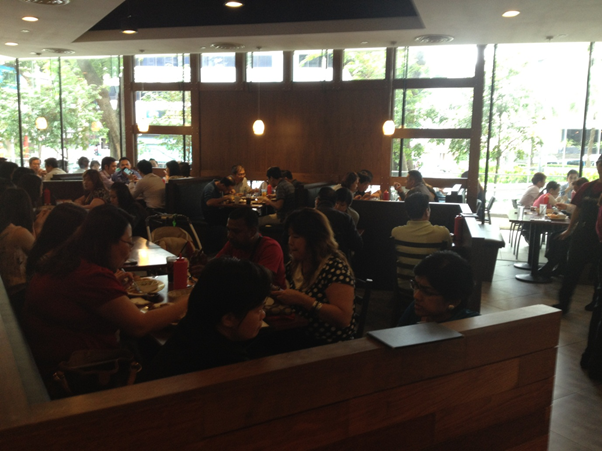 While there is a choice of several kinds of food, I will recommend that you try the steak at least once.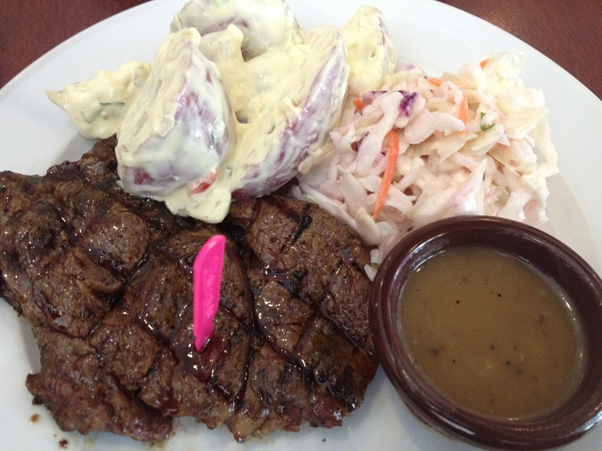 A prime sirloin, medium rare. Sides: Potato salad and coleslaw. Damage: $13.50
I actually went for the cheapest steak on the menu. There is no rationale for this other than it's easy on my wallet. I'm not a beef expert but I'll tell you this. This is good beef.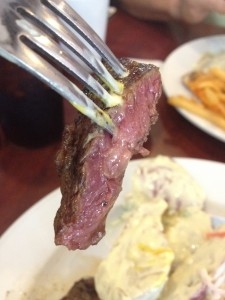 I mean I've had much worse steak at much more expensive prices. The beef was tender and juicy. Strictly speaking, it was more medium than medium rare but I didn't complain. The version they served up was good enough. It got me thinking: if the cheapest steak on the menu tasted like this, how would a premium nicely marbled wagyu steak taste like?
For those of you not familliar with wagyu beef, I will describe them as mythical beef which, the last I heard, comes from cattle that have descended from heaven. These legendary cattle – and I'm not kidding here – supposedly drink beer, listen to classical music and enjoy massages all for the matter of become good steak at the end of their life's journey.
Wagyu comes in different grades, from 1-9 (with grade 9 being blow your brains off expensive), but we're digressing here. The simple point I'm making is that the steak is chea and good.
The fish is not overly impressive, however.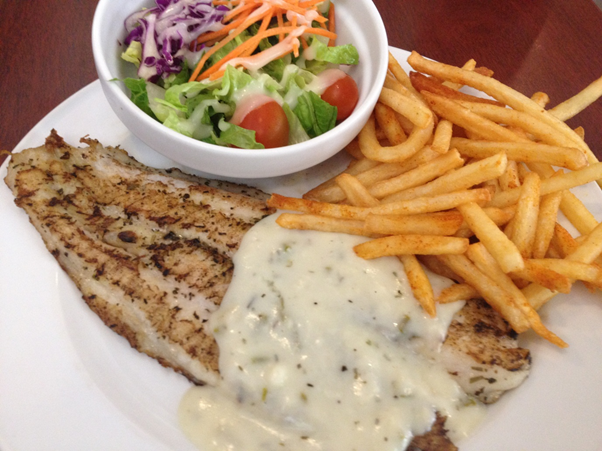 I like my grilled fish crusty, with a smoky aroma. This one was a bit soggy – like it just came out of the ocean. The fries saved the dish, however. Crispy on the outside with some tenderness retained inside and seasoned lightly with chilli powder.
As I said, always go for steak when in a steakhouse. Unless you happen to be Buddhist, in which case you'll still see plenty of other options in this restaurant.
---
3 Comments
shahen

It's a very nice post, thank you for sharing this informative post.!!

Robert

key [www.google.com](keyword) [url=www.google.com]keyword[/url]

layla

I'll be sure to check this out, thanks!
Leave a Reply